---
---
Current state of things with a small test board on the right, and a test board pretending to be the scalextric base unit on the left
strangely it works, need to hook the right hand bit up to a real scalextric base and see if the two play nicely
---
with only minimal swearing and needing to swap two wires round and only a few sacrifices to assorted dark gods who just happened to be passing* its working, the little test device can talk to, and control the scalextric power base, which means I should be able to get my actual lap counter box to do the same over the next few weeks.

key is the "fake C7042" box will gain the ability to play piggy in the middle and will eventually have the ability to override throttle inputs, which makes it perfect for driving ghost cars at a fixed speed around a track to generally get in the way, or say for running in a new cars motor

* its Cudworth, there are always a few of them loitering, building courage before heading to Grimthrope or Lunwood
---
swapped the LCD screen out for a much nicer (smaller) OLED, and have added a MP3 player because why not..

its currently blasting out a mix of Roxette and Fleetwood Mac

intend to use it for more stuff like tones for count downs etc
---
slight offshoot of all this... have added a little 128k memory chip, as such can now record about 60 or so seconds of data...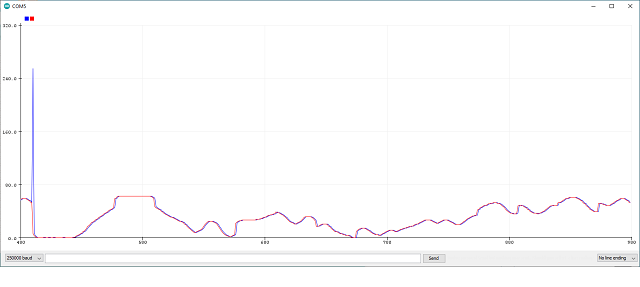 while its pretty basic at present and needs something to load and look at it properly it would seem this has evolved a basic telemetry system so you can see reaction times and similar
---
Have had a bit of a rethink in a few places, this is now in a larger enclosure and has controls to actually drive the cars - had a test run with this today at the shop on a short oval track and it works nicely - uses the Scalextric base as its timing line as I have yet to re-integrate the one I made.

As yet it can't host an actual race but it does count and time laps, track each players best lap time too, in theory it checks the overall fastest lap but that bit didn't show up so need to chase the code and find out why.

have the very early stages of the actual score board working as well with the radio communications to the base station working
---
---
working on some start lights, these are not for "car scale" this is something to mount on, or lean against a wall - largely because its big.. as in likely about 2'6" wide when finished..

scrolling dot matrix display, row of "yellow"*, green and two rows of red, wide enough to show circle patterns for the lights count up then lights out, also good for a scrolling display and will shortly be gaining speakers for some suitable beeps and boops


* for a given value of "yellow" according to china, closer to green really
---
Are we to presume you have already finished re wiring your house?
---